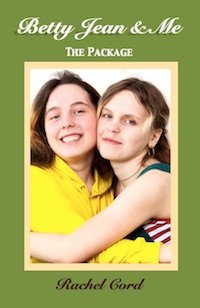 Betty Jean & Me: The Package

A Teen and Young Adult mystery novella
Available now for a special pre-order price of 99¢
at
Amazon
​
15-year-old best friends Betty Jean and Rachel are in the midst of discovering new levels of their friendship when someone tries breaking into the house and drops them straight into danger and mystery. Based on the teen diary of professional investigator Rachel Cord.
~*~​
I've known professional investigator Rachel Cord for nearly 20 years ever since she walked into my office one day and told me a story then asked me to publish it and it became the first in the
Rachel Cord Confidential Investigations
series. As she drops in and out of my life at her whim, I'm never surprised—just appreciative—when she shows up or makes contact. She's never said why she picked me to write her stories, but I'm glad she did, and I'm always hoping she'll tell me another case or two she and her
Confidential Investigations
team completed and allow me to write about it.
Recently, Rachel got in touch saying she'd written a novella based on an incident she'd found in her teen diary she hadn't looked at in several decades and plans to publish as an ebook in November. "I was inspired by the Elodie mysteries Moreau and you wrote," she said. "So I dug out my old diary wanting to remember bits of my past and this is what I came up with."
The Teen and Young Adult mystery novella,
Betty Jean & Me: The Package
, will be published Nov. 15, and is available now for a special pre-order price of
99¢
at
Amazon
($2.99 after Nov. 15). It's a taut mystery filled with juvenile angst and longing.
I wish Rachel well, good luck, and all that stuff with this new endeavor of hers, but I still want another
Confidential Investigations
tale to tell. Maybe next year.