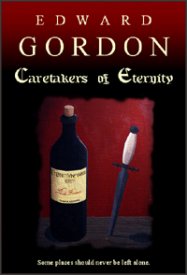 ​
This is my first novel and it's a ghost story. Below is a bit of info on it. It's available as a Kindle, Nook, or Paperback.
----------------------------------------
Jennifer Dickerman, an Arizona real estate agent trying to make it on her own, is given the chance of a lifetime when William Maddock, an old man in the last days of his life, contacts her to buy his family's multimillion-dollar winery near Sonoita. For a mere one hundred thousand dollars, Eternity Vineyards is all hers-but on one condition: She can never resell it. She must give her word to keep it and become its new caretaker.
Little does the old man know that Jennifer has no intention of keeping her word once he's off the property, but little does Jennifer know that Maddock hasn't told her everything about the place, especially its gruesome purpose and the demonic winemaker who wants to fire the vineyard back into production in her absence.
It will take the ghost of a lonely twelve-year-old girl, bound to the estate by her own guilty secrets, to convince Jennifer to honor her promise and prevent the Satanic bloodbath that is about to begin--again.
Publisher's Note:
"Caretakers of Eternity" is a ghost story you won't want to miss. It's nearly impossible to put down once you start reading it, and ultimately it takes an honorable moral stance; however, you may want to read it first before allowing your children under sixteen to do so. At times there is strong language and disturbing scenes of violence that add to the story but may not be suitable for younger children.
-------------------------------------------
Click here to see this title at Amazon.com
Caretakers of Eternity
​