Lunch Break: Short Stories and Poems
written by Quent Cordair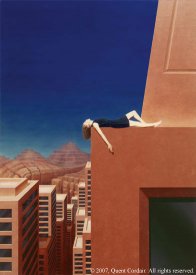 On the cover of this collection, is Quent Cordair's lovely oil on canvas titled "Lunch Break". You can see it here on his art gallery site, Quent Cordair Fine Art, which features the Romantic Realism in art, such as paintings, drawings, sculpture:
Quent Cordair Fine Art - The Finest in Romantic Realism
"Lunch Break," Quent Cordair; Quent Cordair Fine Art
So, Quent Cordair is an artist, writer, owner of that art gallery, and was also the executive producer of a play that I flew from Pittsburgh to Hollywood (my first time flying) to see their production of
Monna Vanna
by Maurice Maeterlinck, which hadn't been produced in nearly a century, so it was a very big deal to me to see it finally produced in my own lifetime. I met him and his wife, and the director of the play. All genuine. Anyways, on to my review of the collection:
It's 130 pages in length, alternating with poems between short fiction pieces. In regards to the poems, I really enjoyed the first poem titled, "My Pledge". It instantly rose to be among my top favorite poems. He says, he had written it when he stood at the dawn of his artistic career and held to it's purpose. The other poems in the collection are: "Holding Your Hand", "The Line", "Your Hands", "Priceless", "In My World", "Suite Boxes", "For My Softest One", "Clever Girl". Among those, I really liked "In My World", and liked "Priceless".
Now, these are all the short stories in the collection: "A Prelude to Pleasure", "April's Justice", "The Whistler", "The Seduction of Santi Banesh", "For The Woman Who Has Everything", "The Sculpture That Won The War", "The Hunter", and "Sheltered."
"Sheltered"
, to me, reads much like a The Twilight Zone episode or of the like. It was nicely crafted and engaging to read. It has to do with a guy and his family where he knows that something bad will happen in the world, just not when, so he builds a bomb shelter.
My favorites among the short fiction would be:
"A Prelude to Pleasure"
Garrett, a billionaire's, quest for romantic love, someone to share his world. After 15 years of waiting he spent 5 years searching for it by hiring people to look for a specific kind of woman in the world which was premised on " if he couldn't have what he wanted - he swore he would get the best that could be had". I thought the story was excellent, a must read again.
"The Seduction of Santi Banesh"
It opens on a girl named Santi Banesh who was participating in the Fast for Virgins, which "was to teach control of physical desire and conquest of the hungry body. It was that highest duty and honor of every girl in the spring of her fifteenth year, at a critical age when a girl knew what it was to want, but hopefully before she had done anything about it." All I can say without ruining the story for any potential readers of it, is that I really loved the way Cordair ended the story. Nicely crafted.
"The Hunter"
is among my list, too, and especially
"The Sculpture That One The War"
. This one was fantastic. It involves art, a sculptor's masterpiece, a girl (4th grader) who falls in love with it, the kindness and generosity* of an art gallery manager, and the pilot who the little girl sent a postcard to. Easily the most touching short story I have ever read.
Quent Cordair knows his way around a canvas with a brush, as evidenced by the cover of this collection, and he certainly knows his was around the page, too, as evidenced by the content of this collection.
*I was listening to Tara Smiths lecture I had just bought from the new Ayn Rand estore
https://estore.aynrand.org/
titled:
Virtues or Vices? Kindness, Generosity, Charity
https://estore.aynrand.org/p/180/virtues-or-vices-kindness-generosity-charity-mp3-download
when I was reading this collection, and I think that what the gallery manager did was an example of the kind of kindness, generosity that Tara Smith was speaking of. In my own testimonial, Linda, Quent Cordair's wife, is that way in real life, as I have met her, and she gave me out of the kindness of her mind, a free QCFA catalogue, then later when I bought a first edition print she took off the extra added cost ($100.00) of a first edition print. I'd like to think that Cordair had to have Linda in mind when writing about that gallery manager's actions in the story.