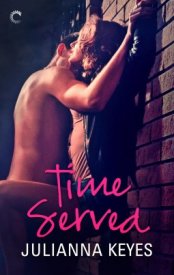 Title: Time Served
Author: Julianna Keyes
Publisher: Carina Press
Genre: Contemporary Romance
Pages: 211
ASIN: B00OHWE8Z0
**Contains Adult Themes**
** TW: Mention of Rape**
**I received a free copy from NetGalley in exchange for an honest, unbiased review**
In this steamy romance, Rachel Moser is a fourth-year attorney at a big law firm. She has worked very hard to get where she is, and is currently in the middle of a high-profile case. With so much at stake, she can't afford to lose focus right now. Unfortunately, that is
exactly
what happens when she runs into her ex-boyfriend, Dean, in one of the most unlikeliest of places.
Rachel and Dean have not seen one another in ten years. He represents the past she ran away from, but could he also represent her future?
This story is as intense as Rachel and Dean's relationship. It's gripping, steamy, and hard to put down. I was pretty reluctant to set it down to even do necessary things, such as eat. Some of the scenes focusing on her career drag on a bit, and I really wanted it to hurry up and get back to their relationship.
It is very well-written, and both the plot and characters are incredibly realistic. The straight-to-the-point narrative works perfectly, and Dean is positively delicious. I had to wait for my glasses to unfog, so I could give it the 4 out of 5 stars it deserved!
Definitely worth buying! Expected to come out on March 23rd, so be sure to set aside that $3.79 to purchase your own copy of
Time Served
on Amazon!
You definitely don't want to miss out on this one!