Administrator
Staff member
Hey Everyone!
We've updated the site to the newest software! There are a lof of changes behind the scenes (better spam and user management and other stuff), but here are some things that y'all will notice:
Online status indicator on messages
Another very common suggestion was to indicate if a user is online right now when you view a message. This can now be seen in the upper right corner of the user's avatar: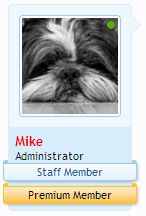 When the user is not online (or invisible), no indicator is shown.

Bulk watch thread management
End users can now quickly disable all email notifications or stop watching all threads from the watched threads list: