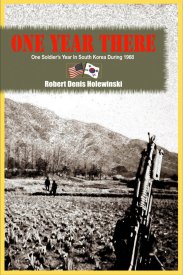 Sincere greetings to all fellow members of Book & Reader! My name is Robert Denis Holewinski, and I am a professional artist (www.UGallery.com/Robert-Holewinski) and new author having published two books. My first book "One Year There" has been in my head since my year in South Korea during 1968. Two years ago I was able to publish this book, which is a collection of story-
poems of the year 1968 in South Korea. They are memories of the soldiers assigned to my unit, located in a small outpost, hidden in the mountains of that country. These story-poems are snapshots of life on that nuclear missile base which was high on the North Korean list of targets. Indeed, we were always on the alert for possible infiltrators who had come into South Korea and who were expected to be heading toward our camp.

Although these poems can be looked at as a military
war story, there are no battles or heroes or military campaigns. Rather, these poems will show life in a small army base in Korea during a very anxious and confusing time, always with the constant possibility of a full scale war.

That year was filled with news items about the two
Koreas with the capture of the USS Pueblo by the
North Koreans, her crew paraded through the news
media, accused of being spies, then the killing of
Robert Kennedy, and the killing of Martin Luther
King. Also during that period, a team of 12 North Korean assassins got to within a few blocks of the South Korean presidential palace before being stopped.

It was my intention in writing these poems that the
reader could come away with a better understanding of what life was like in 1968 at an army base in South Korea. It was also my intention in writing these poems that I would purge the phantoms that have been dwelling inside me since living "One Year There".

The years 1966 through 1969 have been called the
'Second Korean War' by military historians.
My book has received four 5-Star reviews so far from independent unpaid reviewers, and is available through many booksellers. If anyone has read, or plans to read, 'One Year There', I would appreciate your thoughts or comments. Thank you.